Read True Stories of LGTBI+ Families
Rainbow Fertility Barcelona is a project of Institut Marquès with which we want to continue helping even more the LGTBI+ community: lesbian, gay, bisexual, transgender, intersex people, as well as the rest of sexual and gender diversities, to achieve their dream of building a family.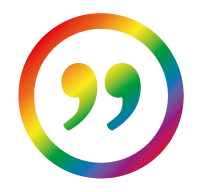 This is the story of two women who dreamed of becoming mothers. They chose Institut Marquès to carry out their project. The ROPA method is an Assisted Reproduction technique that allows two lesbian women to share motherhood.
Discover the beautiful story of these women who knew they wanted to be Mum and Mummy. Now they will be mothers of two boys, the first one thanks to the ROPA Method and the second one by means of  IVF with own eggs and donor sperm. Now they are a family of four.
This is the story of two women who dreamed of becoming mothers. They chose Institut Marquès to carry out their project. Now they will be double mothers, their first child, Oliver, thanks to an Artificial Insemination with donor sperm and their second little one, Lidia, with an IVF with donor sperm treatment. They are now a family of four.
Federica and Sonia wanted to be mothers and chose Rainbow Fertility Barcelona to make their dream come true. They underwent the ROPA method treatment and gave a positive pregnancy test at the first attempt: Beatrice is a beautiful, smiling and friendly girl, and now they have returned to Barcelona to look for a little brother.
Read some examples of our patients' feedback
My wife and I underwent treatment with you and everything went great. We got pregnant the first time and with twins, just as we wanted. Now they are one year old. The treatment at Institut Marquès was wonderful and I have nothing but good words for you. Thank you and thank you a thousand times for helping us to have our children. A big hug.
Laura and Carmen
Mataró 2018
Today, exactly one year ago, we left home for Barcelona full of hope, love, faith and even a bit of agitation. We did the embryo transfer on July 15th at 12 noon. It was the most exciting moment of my life. I had not yet written to you personally after Dylan's birth to say THANK YOU to all of you, from the first one to the last one. I am doing it today, one year after the day that changed my life, our life...
Serena and Giulia
Rimini 2017
It was great from start to finish. The team is fantastic, the facilities are welcoming. You feel special from the first moment.
Lisa
Granollers 2019
We are very happy, we are waiting for our babies to arrive, both at the same time! We are organising ourselves very well to welcome them.
Vanesa
Barcelona 2019
We felt welcomed, guided and understood. The whole team is friendly, attentive and very professional. They all go out of their way to make you happy. Thanks again to Dr. Garcia-Faura, for his follow up, his patience, his kindness, his skills and his professionalism. To Manuela and Carla for your kindness, your gentleness, your patience: you are great, don't change. To the lady at the reception for opening the door with a smile. To Dr. Marquès for the embryo transfer. Follow your heart, your feelings and do not hesitate to visit the centre, to soak up the atmosphere before making your choice of clinic. For us it was and will be INSTITUT MARQUÈS.
Manon and Adele
Toulon 2021
Hello, Doctor!
Last January 19th, after 41 weeks, our daughter was born vaginally.
The pregnancy went very well! Without any symptoms or discomfort, but the birth was quite hard; in the end with episiotomy because she was breech, but thanks to the great experience of the staff at the hospital, our daughter was born healthy and well.
Now we are waiting for the report of the heel test, we are a bit nervous, but with great faith that everything will be fine.
We have no words to thank you for all the work, patience and support we received during the insemination process, we are finally living our big dream!
Please let the girls at the reception know that all three of us are happy. 
A big hug!
Verónica, Adela and Gaia
Sant Cugat del Vallès, February 2022
I have no words to describe the wonderful experience we had with Institut Marquès and in particular with Dr Valentina Milani, from the Milan centre, and our medical assistant, Ilaria Cattaneo, who were wonderful. Our journey began in May 2021; at the end of October we were in Barcelona for the egg pick-up and now we are expecting a baby girl. At 41 years old, I didn't think it could happen so quickly and in such a special way. I am aware that for many couples this is not always an easy road, and we were probably lucky, but we lived it all with a lot of enthusiasm, and this enthusiasm was fuelled by all the staff at Institut Marquès. Going to Barcelona was a fantastic experience. We want to thank all the staff who welcomed us (Carla, Lucía, Pilar, Filippo and many others) and we will continue to thank Dr. Milani, who even called us on Sunday morning before leaving for Barcelona to reassure us for the umpteenth time, and Ilaria, who I don't know how many calls and emails she received from us.
Institut Marquès helped us make our dream come true and will always have a special place in our hearts.
Chiara and Sarah
Rome, May 2022